Last Chance to play Alpha 1!
The first round of testing is done, but the first Alpha version of Island Skies is still available to check out while we're working on Alpha 2!
The PuffPals
The PuffPals started off as plushies! In her quest to make the world a cuter place, our founder Lily made the PuffPals! Now, these friends are coming to life in the Island Skies!
Winston

Winston is always there to lend a helping wing, even if his are broken!

Pete

Pete is a bit of a rascal, but he always looks out for his brother Ricky.

Buttons

Buttons is a welcoming bear, and loves to spend quality time out in nature!

Ricky

Ricky is a little shy, he relies on his brother Pete to make him feel safe most of the time.

Mabel

The greenest thumb on the Islands, Mabel always keeps an eye out for the next trend!

Gus

Gus is a Veggie Pet! If you're lucky enough to find him, he'll be the best helping hand you've ever had!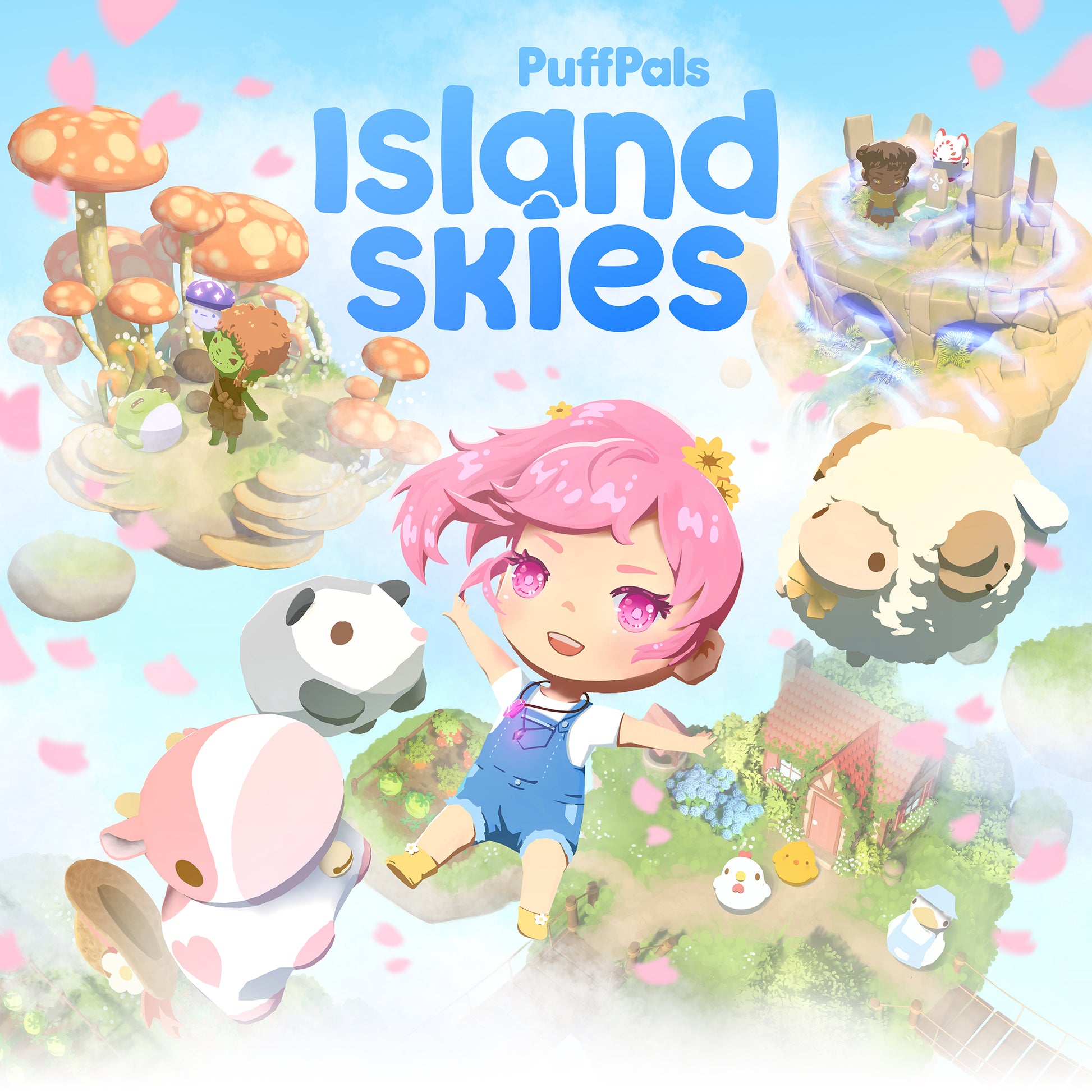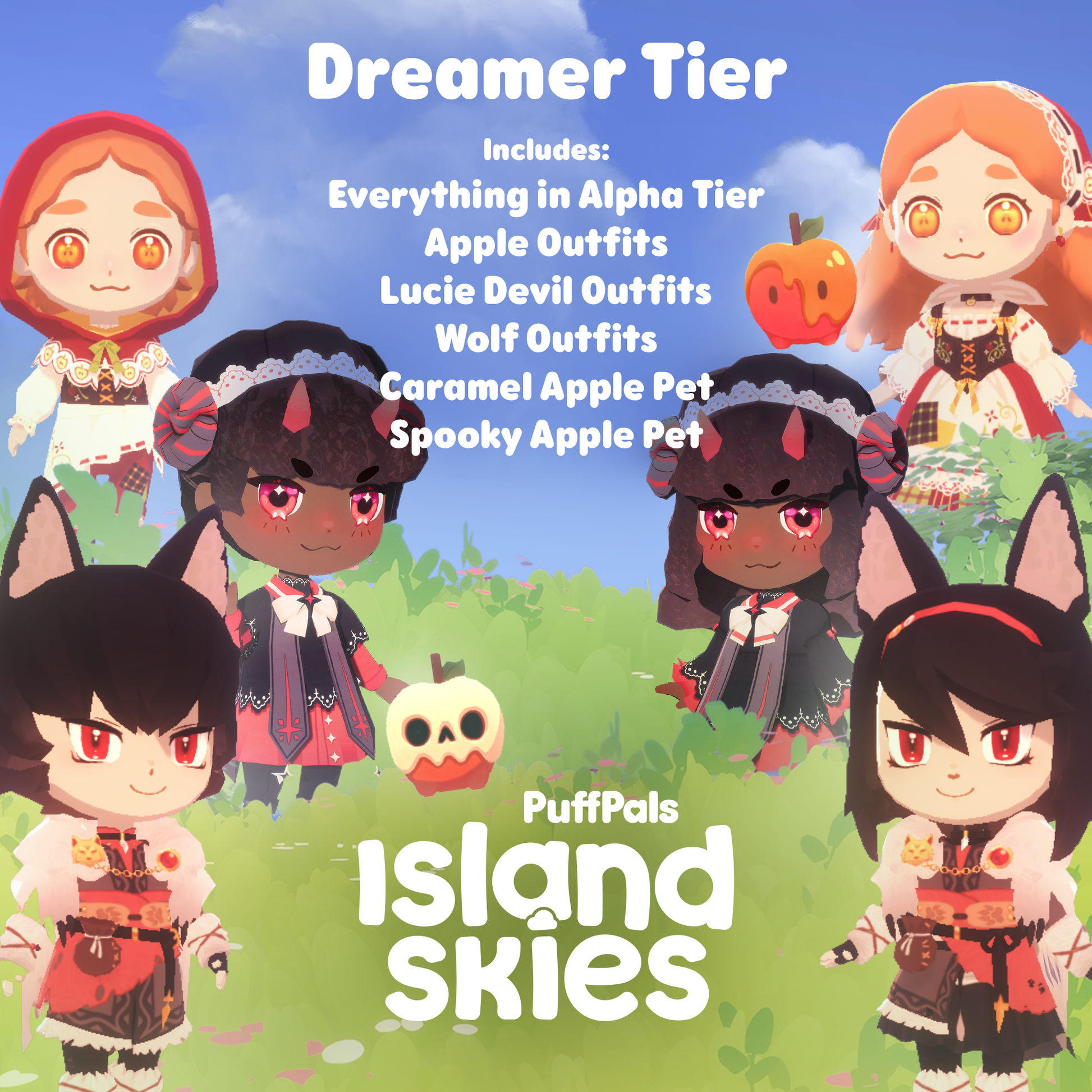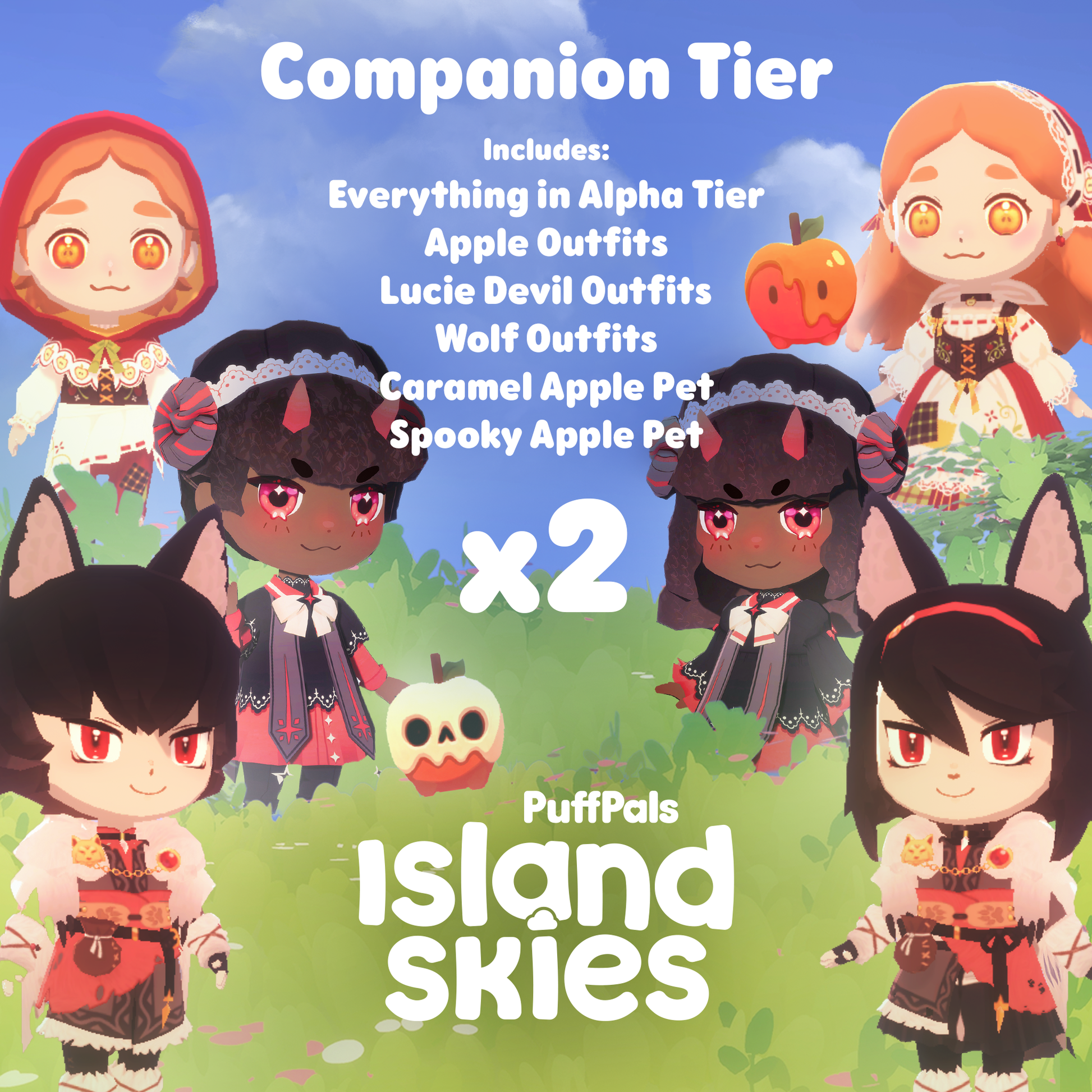 Regular price
Sale price
$30.00
Unit price
per
Sale
Sold out
By popular demand, we've opened alpha access and a set of exclusive rewards for those who've missed our Kickstarter!
All Alpha Backers will receive:
⛅️ Steam access to our Alpha test (playable now!)
⛅️ Free exclusive in game rewards
⛅️ Final copy of the Island Skies (estimated release 2025)
⛅️ Access to join 20,000 backers in our exclusive Alpha Discord with streams, events, behind the scenes art, and more!
NOTE: Alpha is WINDOWS PC ONLY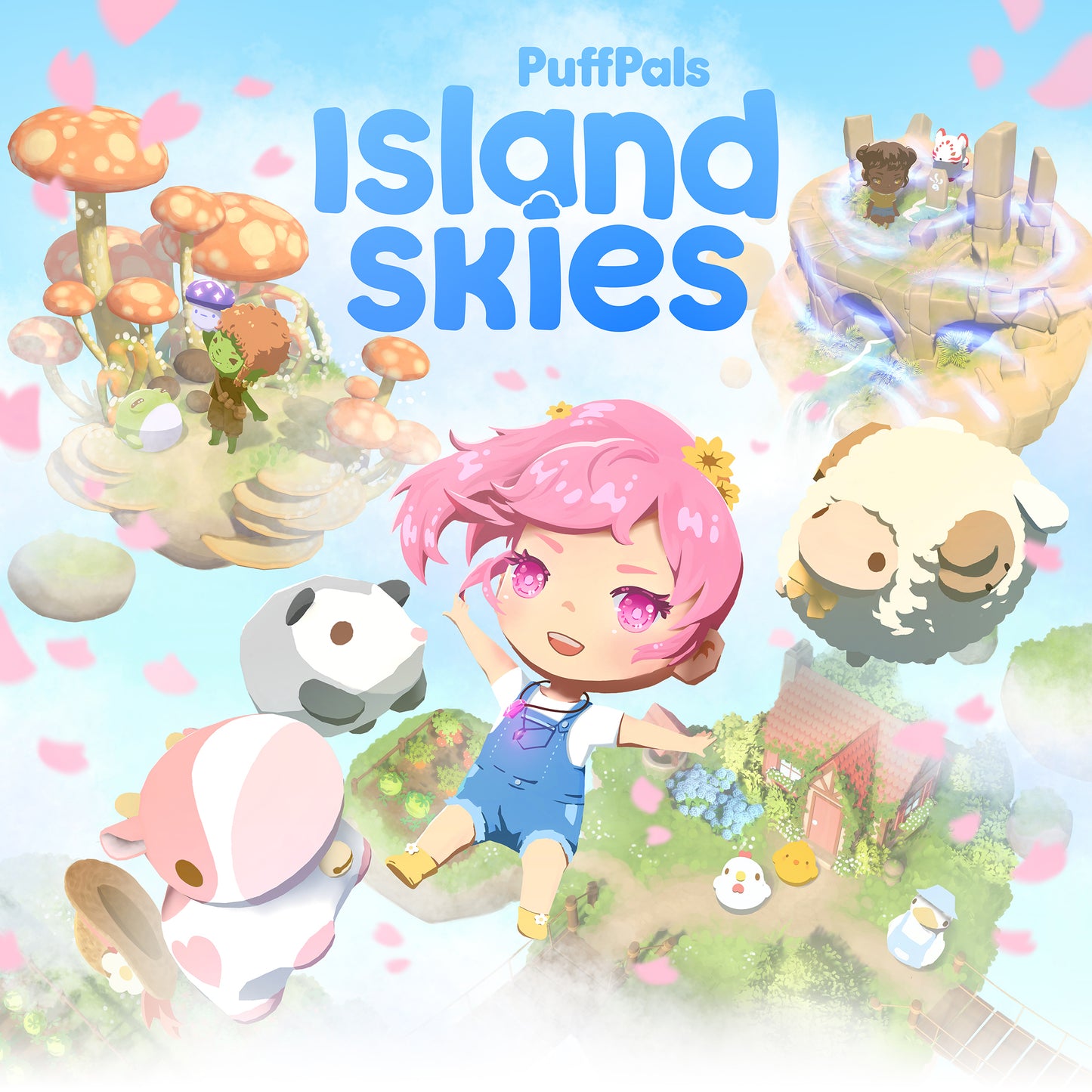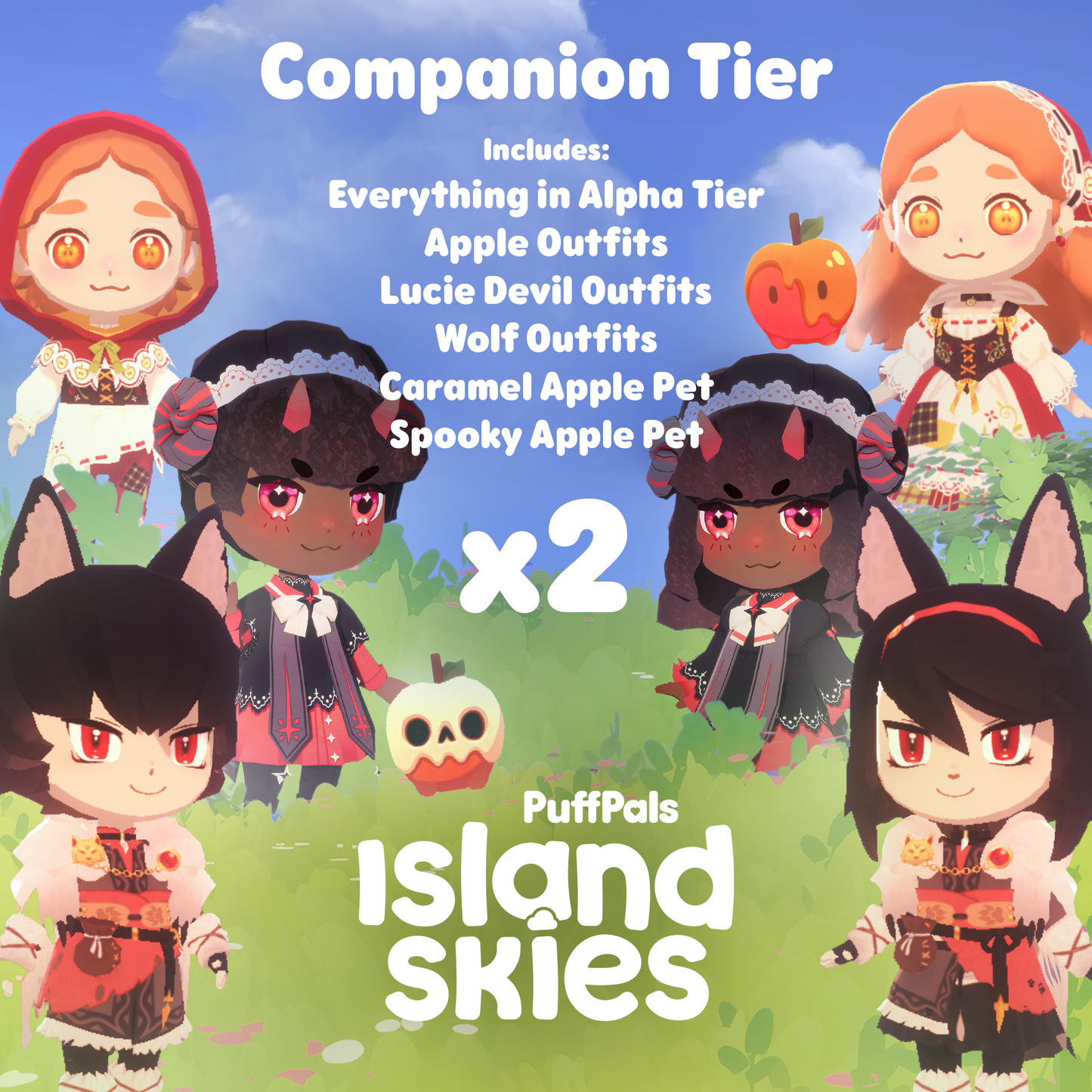 FREE Alpha Exclusives!
To thank our early backers, these exclusive cosmetics will be available for free to everyone who pledges for Island Skies Alpha Access once the Alpha test is done and we enter our Early Access phase!
Thank you to our backers
Island Skies is funded by people like you! As of now, we aren't backed by any big corporations or publishers.
If you want to have a stake in how Island Skies evolves, pledge your support above!
Island Skies Pledge Store
All of our funding comes from you! If you want to further support development, add these in game exclusives to your pledge! OR, get all the exclusives at once in the Dreamer or Companion tiers above!
Regular price

Sale price

$15.00

Unit price

per

Regular price

Sale price

$15.00

Unit price

per

Regular price

Sale price

$15.00

Unit price

per

Regular price

Sale price

$25.00

Unit price

per
Check out where Island Skies started!
COMING SOON: What Your support Could Help Us Add...
These will be things that were explicitly NOT planned and budgeted as part of our scope after Kickstarter, and that further support helps us fund!
Stay tuned to our social media and dev log below to see what we're exploring adding to the world of Island Skies! If you back the project, you can keep up to date through our backer Discord!
Updates!
We've just started our first Alpha test! Read about all the latest in Island Skies below!
  🚨 The Alpha 1 feedback period will be closing on Sunday, November 19th at 10:00pm PT, and we will no longer be processing feedback until Alpha 2! A big,...

  Hey hey Alpha Testers! ✨ An Alpha 1.1 Patch is scheduled for tomorrow morning (Pacific Time), November 9th! As we work to resolve the critical issues you pointed out in...

  Alpha Test Starting October 31st! Alpha is almost here! In this post, we'll cover: 🔑 Alpha Key Survey Link 🎮 Current Status of Features and Gameplay 📑 Feedback 🖥️ System...
FAQs
When will I get the game?

Alpha is open now! Testing periods depend on your feedback and where we are in development, but if a testing build isn't available right now, it will be soon!
What platforms can I play on?

At this time, we're only accepting pledges for the PC/MAC version of the game, but eventually we're planning to make Island Skies available on iOS, Android, and Switch! NOTE: ALPHA IS AVAILABLE ON WINDOWS PC ONLY!

For those that backed for the Switch version through Kickstarter, it won't be available until after the final release of the game.
How will I receive access?

You will receive instructions through the email you enter when you check out!
Can I pledge for a friend?

Yes! We'd love it if you spread the word about PuffPals: Island Skies to your friends! 💖 

Please note: all access instructions will be delivered to and associated with the email you used at checkout.
Can I pledge for multiple copies of the game?

Yes! Just check out with the quantity you want. 

Please note: all access instructions will be delivered to and associated with the email you used at checkout.
How do you decide what to do first?

We plan production based on a combination of the following:

Priority: What's the most important to the game? Ex: farming is super important, so it was one of the first things we did!

Dependency: What has to be done before what? Ex: we have to have an NPC interaction system before we can implement quests.

Expectation & Excitement: What are people expecting to experience first, and what's most exciting for backers and our team? This doesn't trump priority or dependency, but helps keep energy up during production!
Thank you for stopping by!
Words can't express how grateful we are for the opportunity to make the game of all of our dreams. We're working as hard as we can to make island skies the best experience it can be!